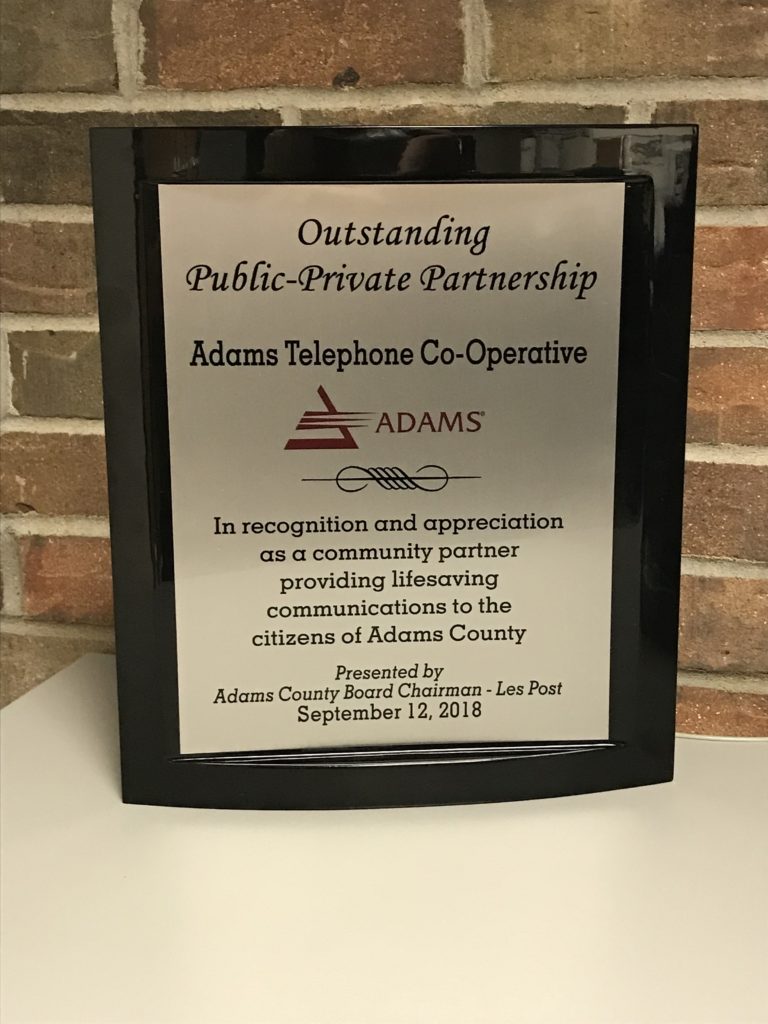 Golden, IL
— 
Adams Telephone Co-Operative held its 66
th
 Annual Meeting of Members on September 12, 2018 at their Cooperative headquarters in Golden. Nearly 900 people were in attendance for the family fun. The night included a meal prepared by the Mendon Lions, business meeting, and over $1,800 in cash prizes. Members also enjoyed the unique opportunity to connect with their Cooperative. Each active membership in attendance also received a $25 bill credit.
During the business meeting, members were updated about Adams' operations and re-elected Bill Scranton to represent Chambersburg, Fishhook, and Hersman exchanges, and Daron Duke to represent the Lima and Loraine exchanges.
Also during the meeting, Adams was presented the Outstanding Public-Private Partnership award by Adams County Board Chairman, Les Post, and Adams County Emergency Management Agency Director, John Simon. Simon states, "Adams Telephone Co-Operative 
is an outstanding partner to our public safety system throughout all of Adams County. The dedication they show for saving lives and protecting property through their expertise and resources in communications certainly increases the safety of our responde
rs and citizens."
Adams Telephone Co-Operative's vision to maintain the Cooperative's standing as a leader in innovation and technology was highlighted in a
 video presentation showcasing Adams solid foundation of core values: to provide our membership with the services they need, to be financially secure, and to always be looking ahead.
Jim Broemmer, Chief Executive Officer, notes, "We've been keeping families and friends connected while helping businesses thrive for almost seven decades. While the technology may change, the importance of being connected remains the same for our members. We remain committed to their success and the prosperity of our surrounding communities which depend on us. The future is full of opportunities, and we want to make sure our members have the services of tomorrow today."
Members enjoyed learning how to connect devices, the difference between 2.4 and 5 Ghz, and had the opportunity to ask our knowledgeable staff about all Wi-Fi related topics. During the night, members could visit our feedback wall to share what they love about Adams and offer suggestions. Members also had a chance to ask Adams Experts employees all of their email questions, learned how to avoid scams and viruses, and were even able to bring their devices for repair.
Three area youth were recognized at the Annual Meeting of Members for their achievements. Through Adams' partnership with the Foundation for Rural Service (FRS), Unity High School graduate, Georgia Graham, received a $2,500 college scholarship. Winners of Adams "Youth to Washington" program, Kate Lehne from Brown County High School and Kameren Kuhn from Unity High School were also recognized by Adams.