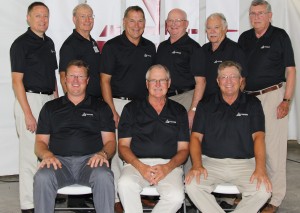 On September 10th, Adams Telephone Co-Operative held their 62nd Annual Meeting of Members at their Cooperative headquarters in Golden, providing members with a unique opportunity to connect with their Cooperative and to celebrate sixty-two strong years in business.  Approximately 700 people attended and everyone enjoyed a meal prepared by the Mendon Lions, business meeting, giveaways, and an evening of family fun.
At the business meeting, members heard updates about Adams' operations and elected two directors. Elected was Matthew Dearwester, representing the Coatsburg-Paloma and Mendon exchanges, and Bruce Eddington representing the Plymouth exchange.
Adams Telephone Co-Operative's commitment to serving its members with fiber was reflected on during the joint President and Chief Executive Officer's report.  Bill Scranton, President, shared with the membership that Adams has a total of 427 miles of fiber serving this area, and reflected that "When Google was thinking about building fiber, we built it," and began serving 15 Cooperative communities with fiber in 2010.  Jim Broemmer, Chief Executive Officer, stated, "Adams has added another 10 miles of fiber to the Cooperative since last year's Annual Meeting."  He updated the Cooperative on the investment in fiber in Quincy and urged members to visit www.followthefiber.net for the latest updates.
A "Connected Life" display was widely enjoyed by members, who had the opportunity to win one of many prizes valued at over $2,000, including a Chromebook, Xbox, and smart TV.  In addition to an interactive display, members were educated in live presentations about various Internet-connected devices including video streaming devices, security systems, gaming options, and the Google/Samsung Ecosystem.  Eric Lee, Director of Product Development commented in his presentation about the Google/Samsung Ecosystem, "In just six years, Reuters has predicted we will have over 50 Internet connected devices in our home."
Three area youth were also recognized at the Annual Meeting of Members for their achievements.  Marcus Jansen of Mendon received the Adams Telephone Co-Operative $500 College Scholarship.  Winners of Adams "Youth to Washington" program Annika Lewis of Ursa and Randallynn Smith of Plymouth reported on their week-long trip to our nation's capital sponsored by Adams.