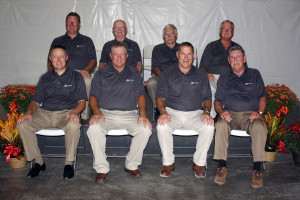 On August 29th, Adams Telephone Co-Operative held their 61st Annual Meeting of Members at their Cooperative headquarters in Golden, providing members with a unique opportunity to connect with their Cooperative and to celebrate sixty-one strong years in business. Approximately 700 people attended and everyone enjoyed a meal prepared by the Mendon Lions, business meeting, giveaways, and an evening of family fun.
At the business meeting, members heard updates about Adams' operations and elected three directors. Elected was Dennis Cornwell representing the Meyer and Ursa exchanges, Richard Denny representing the Augusta and Mindale exchanges, and Robert Leenerts representing the Golden exchange.
Highlights of Adams Telephone Co-Operative's operations were shared with the membership, including the Multi Carrier Network, a partnership of ten neighboring telecom companies to provide connection points for regional and national businesses and communication providers throughout Illinois. Richard Denny, Vice President, stated the Multi Carrier Network "represents a new frontier in communications for Adams by uniting smaller telco providers to increase revenues, decrease costs, and maximize combined efficiencies." Denny stressed that finding alternative new sources of revenue for Adams Telephone Co-Operative is essential to its continued success.
Jim Broemmer, Chief Executive Officer, updated the Adams members about two exciting pilot projects that Adams is involved with. One pilot project involves Instant Care, a home telemedicine device. Broemmer stated, "As our rural population ages, we need to consider alternative ways to provide medical care for our communities, and to allow seniors to remain in their homes. Telemedicine is a viable way for medical providers to connect with rural patients, and Adams is proud to be part of this long-term project." The other pilot project he covered is the Federal Communication Commission's Lifeline Broadband Pilot project, which provides low-income households the opportunity to purchase discounted broadband services. Broemmer added that, "Hopefully in the future, a permanent broadband service solution will be available for these families."
Three area youth were also recognized at the Annual Meeting of Members for their achievements. Emery Gronewold of Golden received the Adams Telephone Co-Operative $500 College Scholarship. Winners of Adams "Youth to Washington" program Anthony Holtschlag of Camp Point and Chance Vose of Griggsville reported on their week-long trip to our nation's capital sponsored by Adams.