More Features, More Innovation, More Productivity
More than just a phone system, Adams VIP is a Hosted Unified Communications solution that gives businesses the ability to be accessible anytime, anywhere, on any device. You can now take advantage of integrated mobility and collaboration tools without the cost of maintaining expensive on-site equipment. Easy to personalize and easy to use, Adams VIP will link everyone in your company, allowing you to communicate more efficiently and effectively. And, since it's from Adams, you get trusted service and dedicated individuals to help you every step of the way.
Productivity Features
Simultaneous ringing, find me/follow me, voicemail-to-email, web meetings, desktop sharing, and seamless integrated mobility are just a few of the features Adams VIP offers. It all can be personalized for each user, with no onsite IT expert required. Your existing phone numbers can be ported to the new service, eliminating the need to change business collateral or contact information.
Seamless Integrated Mobility
You no longer need to be tethered to your desk. Adams VIP lets you conduct business on your smartphone, tablet, or laptop—anywhere the Internet is available. Whether you have an Android or iOS device, or a Windows or Apple OS computer, our app lets you make and take calls with your work number, access contacts, and share files.
Collaboration Tools
Adams VIP gives your employees an easy way to work together—whether they're in the office, at home, or on the road. It starts with Instant Messaging with Presence, a way to tell at-a-glance if coworkers are available, busy, away, or offline. Plus, you get file sharing, desktop sharing, video conferencing, and audio conference calling with individual moderator codes.
Unlimited Local and Long Distance Calling
Adams VIP includes unlimited local and long distance helping you save on business expenses.
Adams VIP Customer Portal—Powerful and Easy to Use
Adams VIP has a unique, widget-based Customer Administration Portal that makes controlling every aspect of your phone system easy. One user can be designated as administrator for the overall solution, while all others are able to manage their individual features and needs themselves.
Incomparable Customer Care
Adams is focused on getting your new communications solution up quickly so your business can immediately realize the productivity benefits built into our hosted solutions. Our back-office systems and portals have been carefully designed to achieve that outcome, and are backed by our dedicated personnel. Adams stands ready to quickly respond to your needs long after the sale.
Low, Set Monthly Fee
With no on-premise PBX system to upkeep, you simply pay a small, set fee every month. No surprises.

Get Adams' VIP Hosted Communications Today!
Hosted Features
Unlimited Local and Long Distance Calling
Unlimited local and long distance calling is included in your Adams VIP monthly fee.

Desktop Sharing
Share your computer desktop with anyone signed into your meeting—both internal and external users.
Web Collaboration
Using our Adams VIPresent Now application, you can chat, share content, and host virtual meetings—with internal and external users.
Unlimited Audio Conferencing
With your Adams VIP conference bridge, you can talk with up to 15 people at once, as often as you like.
Presence/IM
As part of instant messaging, this lets others know if you're busy, available or offline, and see the presence of your co-workers.
Integrated Mobility
Turns any mobile phone into a business phone (and a lot more).
Call Forwarding
When you can't answer (or don't want to), your caller will be directed to the right place.
Voicemail
Gives you full control of your outgoing messages, as well as sending incoming voicemail directly to your email as an audio file.
Speed Dial
Lets you dial favorite or frequently called numbers with just one or two digits.
Shared Call Appearance
Lets you see which lines are busy.
Extension to Extension Calls
Lets you make internal calls using extensions instead of phone numbers.
Account Features
Basic Auto Attendant
Music on Hold
Hunt Group
Main Company Phone Number
Corporate Directory
Customer Administration Portal
Advanced Call Management
Call Control
Voicemail
Customer Support
Expanded Feature List
Incoming Calls
Outgoing Calls
Call Control
Voicemail
Call Handling
Call Management
Caller ID via Device
Reporting
Conferencing
Mobility
Collaboration
Add-Ons Available
Hosted Fax
Fax Line
Call Recording
Virtual Extensions
Virtual Numbers
Audio Conference Bridge
Auto Attendant
Toll Free Numbers

Innovation Comes in Many Forms
To get the most out of the Adams solution, you need purpose-built, full-featured, reliable devices. Our range of device options has been selected to deliver exactly that. They also represent the latest in device technology and are designed to increase the productivity of every employee in your company.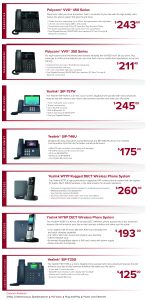 Conduct Business Anytime, Anywhere, on Any Device
One of the greatest benefits of Adams is giving employees the ability to conduct business anytime, anywhere, on any device. With seamless integrated mobility, Instant Messaging with Presence, Find Me/Follow Me, and more, Adams provides everything necessary to turn any device into a business phone. This is more than an increase in employee productivity; this means improved customer satisfaction, increased sales and, ultimately, a very positive impact on the bottom line.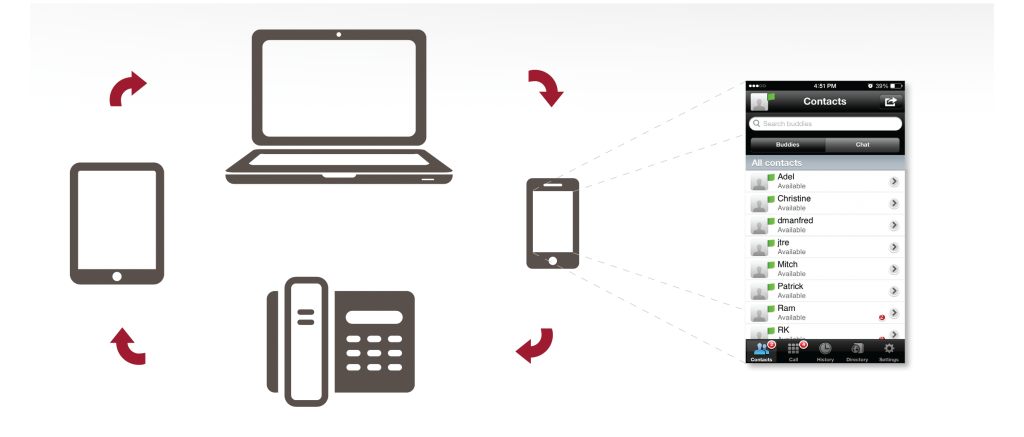 Business Calls Anywhere
No longer is business tethered to the desk. With Adams, business calls can be placed or received from anywhere. Find Me/Follow Me means all your devices can ring at once, or calls can follow you by ringing your devices sequentially. Call Forwarding allows calls to be forwarded from a business phone directly to any other number or device. And by entering a simple code, calls can be transferred instantly and easily.
Any Device
These days, business does not just happen on the desk phone. Adams lets today's mobile workforce stay connected on desk phones, smartphones, or laptops—regardless of their physical location. The Adams mobility client, VIPresence, allows smartphones and laptops to work with a business number or extension, including access to corporate directories and file sharing.
IM and Presence
Adams goes beyond voice, providing multiple ways to communicate with coworkers. VIPresence makes communication easy by automatically populating the user's contacts. Then, with just a click on any mobile device or laptop, chats are initiated with one person or a group. And Presence shows, at a glance, which coworkers are available, away or busy, and lets users easily set their own status.
Business Continuity
Whether due to a power failure or natural disaster, closing down, even for a few days, could destroy a business. Adams provides the ability for every phone and device to work as a business phone, even if the entire office system is not available. Employees are able to continue to make calls from mobile devices or desktops, and settings like Call Forwarding can still be managed within the VIPresence client or the Customer Administration Portal. Inbound calls will never be missed, and customers will never know the difference.
All the Fax
The Adams Hosted Unified Communications solution has two fax options available to accommodate the needs of any business. And both options cost less than traditional fax systems.



Adams Hosted Fax
It is no longer necessary to buy and maintain a fax machine to send and receive faxes. Just add Adams Hosted Fax to the Adams system, and get all the convenience and security of a private fax machine within any browser.
Have faxes delivered to email or directly into the Adams Customer Administration Portal
Easily manage features in the Adams Customer Administration Portal
Requires no capital expenditure or set-up costs
Easily port existing fax numbers
Send and receive fax documents of any length
Fax to anywhere in the U.S.
Adams Fax Line
If a company wants to keep or maintain a traditional fax machine, the Adams system can still save money every month, when compared to the cost of an analog line.
Adams Fax Line service is compatible with existing fax machines
Get the convenience of one provider and one bill
Use company-wide
Easily port existing fax numbers
Receive and send fax documents of any length
Fax to anywhere in the U.S.
VIPrimer


$9.99

/ month

VIPrecision


$24.99

/ month

VIProfessional


$29.99

/ month

VIPremier




$44.99

/ month

Extension to Extension Calls
Unlimited Local and Long Distance
Local Calling Only
Call Forwarding
Voicemail
Speed Dial
Shared Call Appearance
Integrated Mobility
Presence/IM
Desktop Sharing
Web Collaboration
Unlimited Audio Conferencing