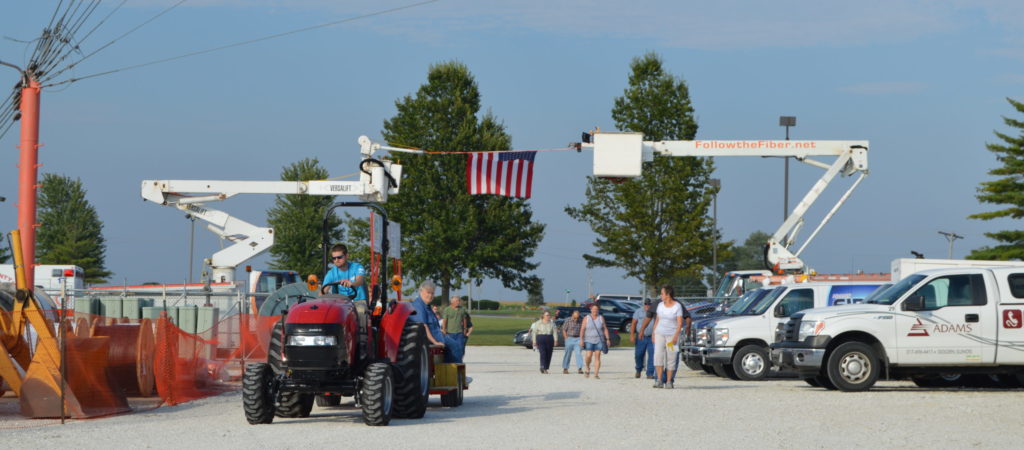 Preparations are underway to celebrate our 70th Anniversary at our Annual Meeting of Members & Member Appreciation Night on Wednesday, September 14, 2022.
Now Accepting Annual Meeting Reservations!
Official Meeting Notice
The Annual Meeting of Members of Adams Telephone Co-Operative will be held at the Adams Telephone Co-Operative headquarters at 405 Emminga Road (on Highway 94) in Golden, Illinois on Wednesday, September 14, 2022 at 7 pm to take action on the following matters:
Election
Election of three (3) directors to serve a term of three years:
• Director for District 1: Augusta & Mindale Exchanges
• Director for District 4: Golden Exchange
• Director for District 6: Ursa & Meyer Exchanges
Meeting
• Reports of officers, directors, and committees
• Any other business which may come before the meeting or any adjournments thereof
The nominating committee, comprised of Carolyn Browning, Scott Bruenger, Justin Daniels, David Dickhut, David Gronewold, Landon Reed, and Greg Tippey have made nominations for directors as follows:
• Richard Denny to represent District 1: Augusta & Mindale Exchanges
• Robert Leenerts to represent District 4: Golden Exchange
• Scott Wray to represent District 6: Ursa & Meyer Exchanges
Each nominee for director is to serve a three-year term or until their successors are elected and qualify. The election of all directors are to take place at the Annual Meeting of Members on September 14, 2022, at Adams Telephone Co-Operative in Golden, IL.
Posted July 18, 2022
Nominating Committee Named
The Nominating Committee is seeking nominations for District 1 (Augusta & Mindale exchanges), District 4 (Golden exchange), and District 6 (Ursa & Meyer exchanges) in the upcoming Election of Directors at the 70th Annual Meeting of Members on September 14, 2022. If you are interested in becoming a board candidate, please contact a committee member listed below:
Greg Tippey, District 1
Carolyn Browning, District 2
David Dickhut, District 3
David Gronewold, District 4
Scott Bruenger, District 5
Landon Reed, District 6
Justin Daniels, District 7
The committee will meet July 12th at 6 p.m. to determine the slate of board candidates. If you have any questions or concerns, please contact Jim Broemmer, CEO at 217-696-4611.
Are you the next board member?
Becoming a board director offers rewarding opportunities to serve your community. Call our office to learn more about Board service, expectations, and benefits. If a member is interested in serving on our Board, we have two methods to be on the ballot for election:
Selected by the nominating committee.
More than one candidate for an open position may be selected.
By petition.
Fifteen or more members acting together may make other nominations by petition. Petitions must be received not less than thirty days prior to the Annual Meeting. Directors must attend regular monthly board meetings and are paid a per diem for meeting attendance. Directors must also attend special board meetings, industry conferences and meetings, and are paid a per diem and expenses.
*This event is held annually for members who live in a household with telephone service provided by Adams Telephone Co-Operative. These exchanges are Augusta (392), Chambersburg (327), Coatsburg/Paloma (455), Fishhook (338), Golden/La Prairie (696), Hersman (289), Lima (985), Loraine (938) Mendon (936), Meyer (647), Mindale (667), Plymouth (458), and Ursa (964).